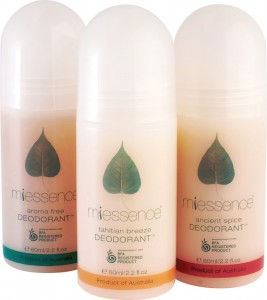 Miessence deodorants are chemical-free and BFA (Biological Farmers Association) certified. Based on sodium bi-carbonate, they are free of any common chemicals  such as aluminum compounds, parabens, silicone derivatives, propylene glycol or formaldehyde releasers that are found in deodorants and anti-perspirants commonly used today .
Our body is designed to perspire. Blocking perspiration can create a build up of toxins in the lymph glands. Some of these toxic chemicals are showing up in breast cancer tissue. Miessence deodorants allows toxins to be released from the body.
Perspiration is not the cause of smelly armpits, its bacteria, and the bi-carb in the Miessence deodorants does a great job of eliminating odour. The only other ingredients are Certified Organic Aloe Vera Leaf Juice, Certified Organic Fruit Extracts, Certified Organic Essential Oils and Non-GMO Xanthan Gum. The best thing is that they really work!
You can watch a short webinar with Miessence Research & Development Director Narelle Chenery here Miessence Deodorants
If you would like to try the amazing Miessence Deodorants, click on one of the links below.
Ancient Spice Roll-On Deodorant
Tahitian Breeze Roll-On Deodorant